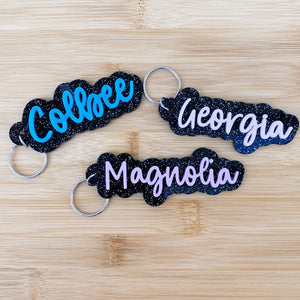 2 Layer Acrylic Name Keychains
Back to school shopping?  Get them something that will be the envy of the school.  A two layered custom keychain in your choice of over 100 different colors of acrylic.  You name it, I probably have it!

Each keychain measures 1.5" high but length depends on name (Colbee is 3.6" long, Magnolia is 4").  Made of laser cut acrylic and comes with the key ring attached.

Please enter the desired name and color of name, then the color of background acrylic.  Top left in the picture would be entered "Colbee, teal blue name, black glitter background" 
Please double check the spelling on all names and/or messages. REFUNDS WILL NOT BE GIVEN BECAUSE OF INCORRECT SPELLING