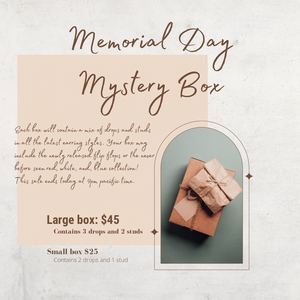 Memorial Day Grab Bag
Each box will contain a mix of drops and studs in all the latest earring styles. Your box may include the newly released flip flops or the never before seen red, white, and, blue collection! This sale ends today 5/30 at 9pm pacific time.
Each large box contains 3 drops and 2 studs. (A $115.95 value) 
Each small box contains 2 drops and 1 stud. (A $71.97 value!)
Products from these boxes are not eligible for returns, unless damaged in shipping. What if there is one that you don't like? These earrings are giftable! Keep them for that last minute birthday party or stocking stuffer.